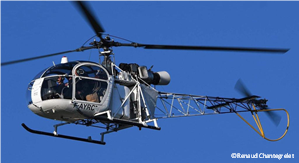 Piece by piece Renaud Chantegrelet firmly achieved his goal : fly an helicopter.  Helped by a team of volunteers, and with the assistance of VELICA (certification and design office) he created a hand rudder control, and obtained from the French Aeronotical Authority (DGAC) to install it on a helicopter Alouette II in Decembre 9th 2021 (Aircraft "annexe 1" which means out of EASA's area of expertise).
Unable to use his legs, this system allows him to activate the rudder control with his hands instead of the usual foot system. This kind of mechanism already exists for light aircrafs but it is the first time such a system is used for a helicopter. The team of volunteers invented,  designed and crafted this "malonnier".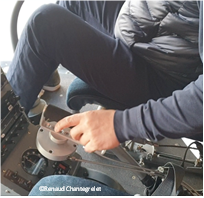 Tests were performed during development. A certification program was then led. With the DGAC approbation, the helicopter Alouette II is now able to fly!
The helicopter will first be used by Renaud to pilot licence training.
(Note : Renaud obtained a private helicopter pilot licence on February 18th  2022)
His dream is successfully completed t
hanks to his enthusiasm and positiv attitude, and thanks to all the team around him  !